Whistler, Arrangement in Grey and Black, No.1 1871
Two primary assumptions shape this positional arrangement of baseball's All Time best.
First, it is fun, but impossible, to deftly or definitively assess great players across widely disparate eras and circumstance. I try to counter this apples to oranges conundrum by recognizing singular greats from every 20th century era, while trying not to conspicuously over-represent any particular era.
Second, history's greatest positional players are disproportionately outfielders. Let's mitigate this imbalance by employing a DH. I also exploit some positional flexibility where I think it makes practical sense and improves the team. This will shock and upset people and cement my status here as a pariah. It's okay.
Since we're openly acknowledging ignorance, let's begin where Bud Abbott famously penciled in "I Dont Know". That's right. Third Base!
THIRD BASE Mike Schmidt
Fielding commendation – Brooks Robinson
This feels like the easiest position to me, perhaps because so many top notch careers (Boggs, Brett, even Brooks and Santo) chronologically overlapped w Schmidt, making them easier to compare. Schmidt was the best, by most objective, broad-based estimates.
CATCHER Josh Gibson
Honorable mention: Bench
With due respect to Yogi Berra, catcher distills down to a two man tossup, imo. Both men established resonant positional reputations above their contemporaries and then some. Before the war, it was Gibson. Afterwards, Johnny Bench. While competitive evolution certainly favors Bench, my tiebreaker is that the slugging Gibson can credibly be argued as the greatest player of the 1930's - at any position. Bench, great as he was, cannot quite as plausibly make a corresponding claim. Indeed, Bench wasnt quite the best player on his, admittedly powerhouse, teams. He was very close, but Morgan was, overall, the best player on the Big Red Machine. Therefore Gibson, the NBLs greatest home run hitter, slots in as my fantasy backstop...and lone representative from " the 1930s."
SHORTSTOP Cal Ripken
Honorable mention: Wagner
Fielding Commendation-Ozzie Smith
Another tossup between transformational two-way players, here nearly a century apart. Wagner's a personal favorite but I need a modern representative, and Ripken's the "modern" gold standard at short, much like Schmidt or Bench. Defensively, Ozzie was...well...he just was.
SECOND BASE
This one surprised me. Like some of you, I grew up in a house venerating Hornsby, almost as much as Ruth. Then Bill James provoked a persuasive argument for Joe Morgan, that I basically subscribed to for twenty years. But in our very recent group exercise at this site, I learned to appreciate a third ballplayer who I'd grown tired of being propped up into a feel good demigod by, and largely for the benefit of, mlb.
Hornsby and Morgan led the majors (both leagues) in WAR four different seasons, which is fantastic. The demigod just three. But Hornsby and Morgan, like many generational talents, entered the majors as teenagers. The demigod wasnt allowed to play with his 'betters' until he was 28. Turned out, they werent 'better'. None of them.
Jackie Robinson, an objectively brilliant baseball player
CENTER FIELD Willie Mays
The most loaded of all positions but not ultimately a difficult selection, I dont think. Outside of his corrupt godson, Mays has the most bWAR of anyone born in the 20th century. At any position. Let that sink in for a minute. He led the majors (both leagues) in WAR eight times. Cobb (5) didnt do that. Musial (3), Mantle (4), Yaz (3), Williams (4). None of them did that, or came particularly close. Only Ruth, with nine War "titles" across both leagues, is in Willie's company there.
******************************************************************************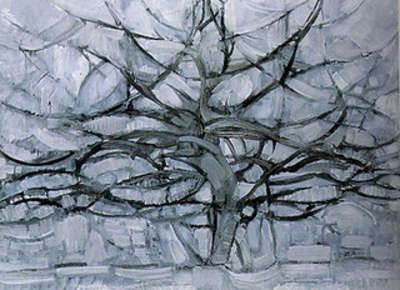 Piet Mondrian, Gray Tree 1911
Okay, here's where we branch out, take a detour and all hell breaks loose. I'm good with Mays and Ruth's obviously in right, but what do we do with all these other superstar OFs who credibly populate Top Ten Lists, at any position? Cobb, Ted, Hank, The Mick, Stan the Man. They cant all be DH.
Some may recall my push for Musial on our recent first base ballot. He didnt get on and I probably wouldnt vote him over Gehrig, if he had. But Ted Williams over Gehrig, at first base, seems a more interesting hypothetical. That's still not quite compelling enough, though, to dismantle our deepest historical conventions about the baseball universe. There may only be one historical player who can rationally and comfortably dislodge Gehrig while easing this outfield logjam....and that happens to be Gehrig's teammate. Perhaps you've heard of him.
FIRST BASE Babe Ruth
Honorable Mention - Lou Gehrig
Ruth actually played some first. Not as much as Musial or even Mantle, but I've little doubt he'd hold his own. He was quick and athletic and even left handed. A natural. To be clear, I think very highly of Gehrig. It's just that Ruth at first pretty clearly makes the team better, because a) he's better than Gehrig and b) I think Cobb, Aaron and Williams all have pretty good cases to be on the team a little more than Larrapin' Lou. It just turns out the greatest first baseman of all time happened to play right field...and pitch a little on the side.
RIGHT FIELD Ty Cobb
Hacks, you're killing me. Why not Aaron? Eh. It's close. For one thing, I need a deadball era representative. That's twenty years essentially, otherwise unrepresented. Cobb was better than Speaker and probably better than Wagner, so absent Honus at short, Cobb simply has to start on this team somewhere. Why? Because it took a handful of different HOF caliber players half a century or more to surpass Cobb's myriad records. Total Bases (Musial). Stolen bases (Brock - 20th c). Hits (Rose). Runs (Henderson). That's an astonishing testament to durable greatness that I'm not sure even the great Aaron can match.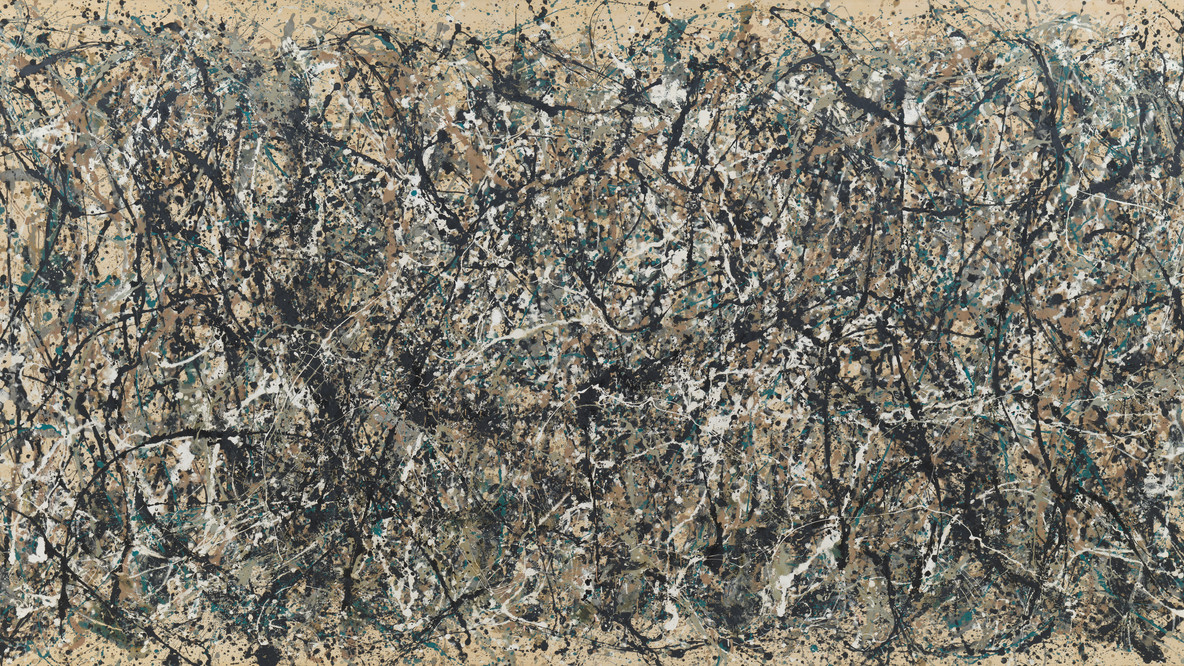 Pollock, One: Number 31 1950
Still, here we are. The jam. So much.... jam. Mantle could play left. Speaker or DiMaggio certainly. Rickey, Stan or Ted. That Aaron dude. Frank Robinson. Clemente. Mel Ott. It's silly really. Choosing between Ted Williams and Hank Aaron. So here's what I decided to do. Earlier I accomodated the logjam by shifting Ruth to first. Now, I'll accomodate the other original assumption - ignorance - by making my leftfielder a double edged symbol. A beacon of athletic accomplishment, for sure, but also a symbol of shadow. An avatar of my ignorance, and probably yours too. A rational reminder that we often dont know historical reality as much as we think.
History is selective bits of illumination and opacity that gets printed in black and white. We often talk about it like it's black and white. Maybe you looked over my team and thought about it in terms of black and white. I certainly did. But the more I delved into comparative records and contexts, the color that consumed my understanding was - gray. Layers of gray. Or is it grey? Grayness. Greatness. So instead of recognizing an extraordinary black or white leftfielder, of which there are so many, I'll nominate perhaps the grayest player of all time.
LEFT FIELD * Oscar Charleston
Charleston, c.1922
Charleston's especially gray because, unlike Gibson or Paige, he was born black in the nineteenth century. So not only was he deprived of the major leagues, like so many others. He was also deprived on the front end of his career from any organized or statistical recognition, because the Negro Leagues didnt officially take shape until 1920.
How great was he? I dunnno. Bill James, probably the world's most famous historical baseball researcher, ranked Charleston the fourth greatest baseball player in history, behind only Ruth, Wagner and Mays. Wagner, for his part, allegedly claimed Charleston was as good as anyone he ever saw - and Wagner saw Ruth, Hornsby, competed against Cobb etc. HOFer Monte Irvin, who was twelve years older than his roommate Willie Mays and who helped shepard Mays' transition to mlb, saw both players and said Charleston was better than Mays. There are even loftier appraisals, from the likes of Buck Oneil and other witnesses. It proves nothing, beyond reputation, but I think it suggests something important. Not just about Charleston but also about us and simplistic narratives we routinely construct around ourselves and then call it "truth" or "knowledge".
******************************************************
DH Ted Williams / Hank Aaron
******************************************************
Johns, Gray Numbers 1958
*************************************************************************************************************************
That's it for now. Inquiries as to the name of pitchers should, again, be directed to Bud Abbott:
"Tomorrow!"