If you're on this site, odds are you're a Diamondbacks fan. If you're a Diamondbacks fan, odds are you know about the Diamondbacks Special: the free tacos Taco Bell gives away with the purchase of a large drink from 4-6 PM the day after our Dbacks score six runs or more. My brother Nick and I really didn't have any other plans for dinner tonight, and were, of course, hungry, so we thought we'd give them a try. Fair warning, there's going to be five or six pictures in this post.
I decided early on that I would give five different scores: Service, Presentation, Taste, Nick's Opinion and Overall, with pictures to illustrate as I go along. Each catagory will be scored 1-10 stars, ten of course being the highest, one being the expected score the lowest. Should be fun! That's me, by the way.
Service:
The service was actually very good. They took our orders very quickly, and by the time I had filled my 32 oz. drink, the tacos were hot, ready to eat, and exactly what we ordered. Fast, accurate service is a good thing so 10 stars
Presentation: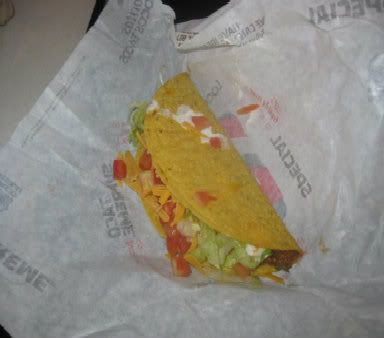 Sometimes a picture is worth a thousand words. Other times it's worth ten thousand. And don't think I'm picking the worst one. They all looked like this. 2.5 stars.
Taste:
I decided to judge this solely on fast food standards. It wouldn't be fair to compare this to really anything else. Another point, I got my tacos Miggy style. For those that don't know, that means they add tomatoes and sour cream. In all honesty, I don't think it added much to the taco. There was way to much sour cream, and it really over powered everything else. Besides that though, as far as fast food goes, it wasn't bad. 5 (fast food) stars
Nick's Opinion:
My brother loved these tacos. He devoured them, and then looked hungrily at mine. When I asked him later, he said that he would give them 7-8 stars. Granted, this is the guy who thinks Little Caesar's is some great pizza, so there's that.
Overall:
Will I do it again? Probably not. Would it take a team of wild horses to drag me back? No, not really. It's fast food tacos, but the price is hard to beat ($2.84 if you get it Miggy-fied), you get free refills (I got three), and few hours later, I haven't experienced any of the fabled side effects. I'd give it a solid 5 stars, based mostly off the price and service.
One final point, if more than one person wants the special, you'll have to order separately, so bear that in mind.