With no small fanfare and a host of guest stars, the new uniforms were officially unveiled at the Valley Ho Hotel in Scottsdale this evening: Sedona Red is now the preferred shade of your Arizona Diamondbacks. This has been the subject of much discussion, and probably, to be honest, counts as a badly-kept secret, with details of the logos and designs leaking out through various sources, quite some time ago. But I do have to say, when seen in its proper scale, and used as intended, on shirts, etc. I found the results are quite effective.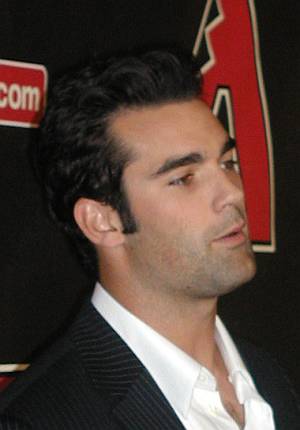 Conor Jackson
The event attracted quite a number of celebrities, mostly from other sports - nobody from the Suns, but I guess they were otherwise occupied. ;-) The Coyotes included Jeremy Roenick and Wayne Gretsky - the latter lurking in the back, far from the celebrity area - while there were also a number of Arizona Cardinals present, including quarterbacks past and present, Matt Leinart and Kurt Warner. [Kurt, I have to say, deserves especial praise: coming down the red-carpet, there were a bunch of kids getting autographs, and he stopped, not just to sign, but also to chat to them about whether they were D'backs fans, the new uniforms, etc. He seemed a genuinely nice guy, and my respect for him certainly increased.]
Bud Selig was also in the building, as was - for some reason - Sherriff Joe Arpaio. I was going to ask him if he intended to change the boxers worn in Tent City from pink to Sedona Red, but chickened out. Of course, a lot of Diamondbacks were there as well, though curiously, they all seemed to be the position players - I don't think a single pitcher was present, either in the fashion show or even just attending the event. Otherwise, most of the likely 2007 Opening Day starting line-up was present. To answer the big pre-show question, Eric Byrnes did indeed take part: as he came up the red-carpet, I wanted to ask him whether he was still going to adopt the same "unbuttoned" approach with the new uniforms. But in typical Byrnes style, he whizzed right past us at top speed, hurrying on in to get ready for what I imagine what his runway debut.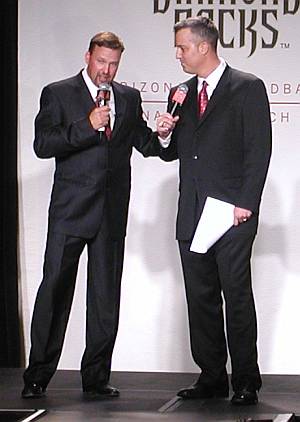 Mark and Daron work on their play-by-play
Your hosts for the evening were Mark Grace and new commentator Daron Sutton, and if this is what we've got to look forward to come next season, it should be a lot of fun. They riffed nicely off each other, with Sutton demonstrating a dry irony and self-effacing style that made for very easy listening. Of course, they hardly covered any baseball-related material, and that will be the true test. [As he arrived, I asked Mark which Diamondback he thought would have a breakout season in 2007. "Write this name down," he said: "Chris Young." Consider it written down and preserved for all to see, Mr. Grace.]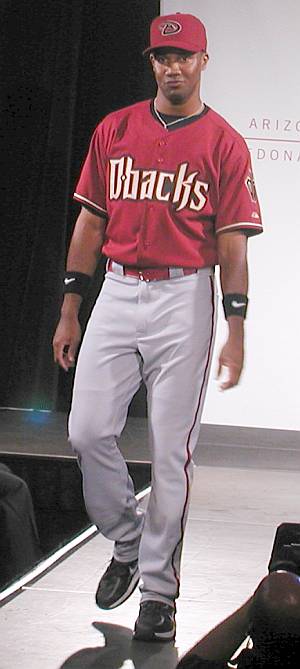 Chris Young proves he's well-red...
Before the fashion show, team president Derrick Hall came out to say a few words, explaining the reasons behind the changes, and why they went for Sedona Red. He stressed a desire for the team to remain representing the state of Arizona, plus that they wanted to pick a shade that wouldn't go in and out of style, and would stand the test of time. He added it was important that no-one else in our division used red; an obvious nod to Colorado, who had snagged purple before the Diamondbacks did [indeed, it always struck me as an odd choice for Arizona to begin with, given the Rockies already used it in their scheme].
Then the fashion show itself started, with the Diamondbacks' players coming out, dressed in the new styles - these were interspersed with professional models, showing what else could be done with Sedona Red and the other colors in the new scheme. It was interesting to note who looked most - and least! - comfortable as clothes-horses, though to avoid embarrassment, I'll avoid naming any specific names in either direction... :-) I will say, however, that Eric Byrnes did indeed sprint down the runway, going full-throttle, though fortunately, did stop short before the end.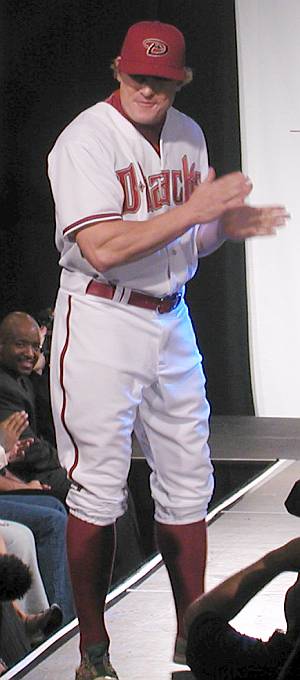 Byrnes looks slightly disappointed his new uniform did not come pre-stained.
I like the new uniforms. I think the red adds punch that was previously lacking in the color scheme, and the new style definitely looks modern. I'm still not quite convinced about 'D-backs' rather than the team name in full, but I guess it's the price you pay for having the longest name in MLB. Obviously, any time there's change, it will inevitably meet with resistance; in this case, I suspect that various other factors are perhaps prejudicing opinion. You might very well find, for example, those who resent the loss of Gonzalez tend to reject the new uniforms too - and probably would do so, regardless of any specifics. The mere fact it came from the same regime is reason enough.
But I think it won't be long before Sedona red is every bit as beloved as the old purple ever was. Certainly, I strongly suspect there will be a couple of presents lying under the Christmas tree at SnakePit Towers, which will feature the new color schemes in significant quantity...