As someone who goes to college in Idaho, my chances to see a baseball game are few. Usually when I try to do something fun, it usually deal with hiking through a forest, climbing a small mountain, trudging through a lake or messing with the local animal life.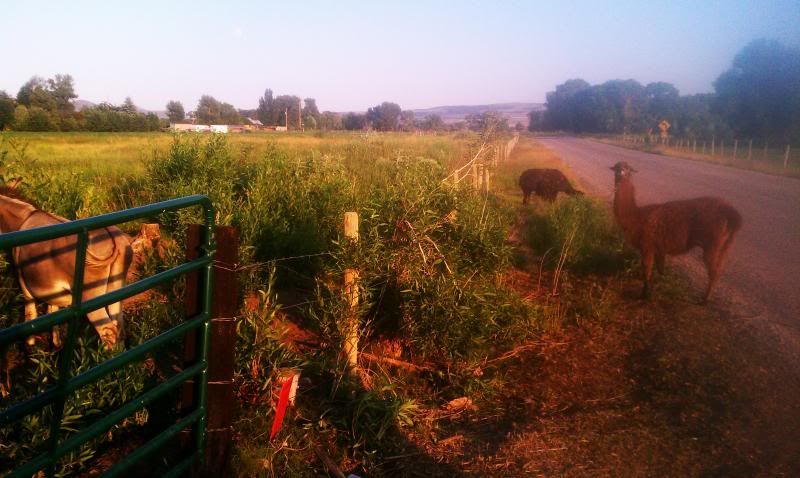 But every once in a blue moon, I get this urge to see a baseball game up close. I used to play in a student league but the field was torn down for an agricultural building (bleh...) so whenever that feeling comes, I get to travel 50 miles to some middle-of-nowhere town and see basically the equivalent of a high school game. But not today! This game had everything I could ever want to see in a baseball game, great hitting, mediocre pitching, and a bullpen blowup. Wait... This sounds like something I watch on my computer everyday.
I decided last minute (meaning Saturday) to make the trek because:
1. School is out and I have no responsibilities
2. I have some extra cash burning a hole in my pocket
3. I was bored and tired of llamas
4. I could watch some of our prospects
So I did. And it was awesome.
I showed up for the 4:15 game at 3:15 thinking I'd be late but of course I was the only one waiting in line for tickets because they hadn't even opened the gates yet. Oh boy. I purchased my Club Level ticket (it was $10 bucks and in the shade. Win-Win) and set off to find my seat. And to my surprise there wasn't one player on the field.
I thought to myself, "How weird." But, with 10 minutes left they started multiplying and soon enough the entire sidelines were filled with players playing pepper and warming up. The 3 ceremonial first-pitches (I know, 3) were thrown out by local radio hosts and with that we were underway. But wait! What about the anthem? Well, they forgot it.
For the Osprey, here was the line-up.
Colin Bray - CF
Jake Miller - 3rd
Daniel Palka - 1st
Jose Queliz - DH
Stryker Trahan - C
Joe Munoz - SS
Justin Bianco - LF
Yorman Garcia - RF
Denver Chavez - 2nd
Carlos Hernandez - P
And they were facing Luke Farrell. Who's Luke Farrell other than not Will's brother? Well here's a scouting report. (He's actually Boston Manager John Farrell's son. The more you know!)
The young Farrell, who pitched at Northwestern University, attacks hitters with a four-pitch arsenal. His fastball sits around 90 mph and has been clocked up to 93 mph this spring. His change-up and curveball both have the potential to develop into Major League-average offerings.
And here's my scouting report from today's game from him.
Mid to High 80's, very nice 12-6 curve. Way over the top delivery. Pretty erratic but not a lot of solid contact off Farrell outside of a couple of hits. Reminds me of Brandon McCarthy without control.
And for the Osprey we have Carlos Hernandez. This is all could find.
The 5'11″ 170 pound Dominican went 7-3 with a 1.68 ERA to go with a 67/38 K/BB rate over 69.2 innings in his pro debut. He was dominate down the stretch, allowing just 7 earned runs over his last 52 innings.
And here's what I had to say about him.
Looks really short on the mound, like 5'8. He looks like a converted middle-infielder. Works fast which helps and hurts him. Low 90's fastball, great downward plane, but not much else. His change-up is very much not a factor but was effective when he threw it. Only threw a couple curveballs, which were off and on. Very, very wild overall but then he hits the perfect spot.
Carlos Hernandez is done after going 6 innings. Lots of K's and BB's, but he got the job done with his limited stuff. When he was throwing strikes, he was very good. He hit his spots and wasn't allowing a lot of hard contact. But then he'd be really wild and couldn't find the strike zone. If he improves on his off-speed stuff, he could fill a back end of a rotation.
And onto the game! The first play of the 1st inning was so weird, Colin Bray was working the count and then blooped a ball that didn't even reach the infield dirt at 3rd base. He ended up with a single. A couple more hits from the inning and before you knew it, they had scored 2 runs. Trahan, Munoz and Bianco all struck out to end the threat.
Idaho Falls came out and absolutely destroyed the ball in the bottom of the 1st.
Lots and lots of hard hit balls by Idaho Falls, especially by Hunter Dozier who hit the wall in Right-Center. Great block from Stryker behind the plate on a spiked curveball. Colin makes a nice rangy catch in leftcenter for the 2nd out. And then Carlos throws a nice change-up to end the inning. Still lots of fat pitches and lots of hard hit balls.
The 2nd inning was less interesting for both squads as Denver Chavez ( I have to admit, he's got an MLB name) grounded into a double play after a Garcia single, then struck out. I.F. went 1,2,3 on a very easy inning from Hernandez, a stark contrast to him barely getting out of the 1st.
Missoula came back in the 3rd with a walk from Palka (not before he crushed a homer just barely foul to RF), a fielders choice grounder to third. Trahan got hit in the back and Joe Munoz lined a single up the middle that Palka barely scored on. He didn't slide, and the throw was low, so the catcher couldn't tag him anywhere. A weak liner to 1st ended the inning but they tied the game and that's all that matters.
Not for long though, as bad Carlos came out. During warm-ups this is what I noticed
Yeah almost every warm-up from Hernandez was a curveball and everyone was spiked. EIther the mound is not what he likes or it's not a very good pitch. It's probably the latter.
And it made him pay. He got the first out easy enough, but then 4 straight hard hit balls up the middle got him in trouble. Luckily for him, the Chukars were greedy and tried to advance to 3rd when their runner scored. Bad Chukars. With that it was 4-3 Idaho Falls after 3 innings.
The good thing about this was Stryker Trahan was getting a lot of work blocking balls behind the plate and he looked good. He's a huge guy but is surprisingly quick behind the dish. After questioning whether he'd stay behind there, I have confidence that if he keeps working hard, he'll stick.
Linton didn't start this game but came on as a defensive replacement in the 2nd. And he took a leadoff walk to start the 4th. It was nice to see. Ever since he signed for $1.25MM, he really hasn't done anything at all to show those "5-tools" that were talked about when he was drafted. Chavez then laid down a beautiful bunt, but he's a D-back so was called out at 1st. #roboumps
Bray came up and tipped another ball of the end of his bat for a single. Such a weird 2-3. Palka took a bunch of pitches then got hit in the back and surprisingly no one was ejected. Weird. Queliz, Trahan, and Munoz all hit rbi-singles and that made it 6-4 with Farrell getting the hook. He gave up 7 runs on 9 hits in 3⅔ innings.
Carlos came out for his 4th inning of work and if you can't tell, I was pretty frustrated watching him. It all culminated in this inning.
3 straight perfect fastballs on the inside corner and a strike-out to start the inning. Then he hits the next batter. Hernandez is maddening to watch. The next pitch is a tailing fastball on the outside corner for a strike. Then he jams him on an inside pitch for an easy double play. So strange. One minute he's on, the next he's missing badly.
From the 5th inning on it was all Osprey as they continued to hit. Bray reached on an error in the 5th and stole 2nd but was stuck there. The 6th on the other hand...
Palka crushes a ball to CF on a line for a double. Queliz lines a grounder up the middle and that's another run. 8-4. First pitch swinging and Stryker hits a single up the middle. This lefty is getting lit up. And right on cue, Joe Munoz hits a 2-rbi double off the wall in LF-CF. 410ft. 10-4 Missoula on 14(!) hits and we're still in the 6th. Now I'm starting to understand why John likes him so much, while I haven't seen him make any plays in the field, at the plate he is solid and takes what the pitcher gives him. That's nice to see from a young kid. 2 straight K's against Bianco and Linton and a nice play in the hole by the 3rd baseman gets Denver Chavez out at 1st to end the inning.
The 5th and 6th innings were relatively quiet with 2 BB's and a single mixed in between 4 K's. I was actually surprised he stayed in so long because he had quiet a bunch of pitches in the 1st and 2nd innings but they kept him out there until the 6th and it paid off. All in all, a very surprising start from the 19 year-old. 8 K's vs. 3 BB's? Not too shabby young man.
Tom Jameson came on for his first appearance for the Osprey and finished the game for the 3-inning save(I only saw the 7th and 8th, I'M ASHAMED WHAT I'VE BECOME!)
He throws low 90's and has a pretty good curveball to go with it. Lots of weak contact, a grounder to 2nd, pop-up to the 2nd base bag, and deflected a comebacker which Munoz stayed with the play and got the out. Great inning from him. He hit spots and was efficient. Liner to CF and another great running catch on an absolute liner to CF. He shatters a bat, makes a nice leaping catch and fires to 1st for the out. And then another awesome catch in RF ends the inning. He should see another inning.
The offense was pretty much done after the 7th. Lots of free swinging early in the count and weak hits. It's like they had places to go or something haha.
After the 8th was done, I had my fill of baseball. But it turns out Jameson got lit up pretty bad for two homers. But the lead held and Carlos Hernandez was given the all important W.
All-in-all I had an awesome time seeing my first game in a while. Now granted it was Rookie-level stuff, but if you look past the 18 singles, you can still find the roots of baseball wherever you go. If you can't catch the D-backs, make sure to try and visit some of the MiLB teams in your area. It was a lot of fun and to see the fan interaction with players and scouts was refreshing. The National Pastime isn't dead, it just takes people like us to keep the spirit alive.