Pima County houses well over 1 million souls, with around half of those living in Tucson city limits and the vast majority living in the Tucson metro area. Even so, and even with only the Rockies and Diamondbacks still training locally, when Spring Training comes around, it's not exactly out of the ordinary to run into pro ballplayers completely randomly. I'll always remember the time I ran into the great Luis Gonzalez in, of all places, Bed Bath and Beyond, (my ex-fiancee had dragged me there) and, without knowing what to do, and having nothing for him to autograph, I simply squirted out, "....hey! You're Luis Gonzalez! Can I shake your hand??" Somewhat embarrassed, he did indeed shake my hand, before pushing his cart on into the domestic bowels of that place. Of course, this is the last year for the foreseeable future (and probably ever) of Spring Training in Tucson, so these encounters should be memorialized. Consider what happened to my sister today.
I was on my way over to her apartment this afternoon. She's going to San Carlos for the weekend with her boyfriend and a coworker, among others, to go SCUBA diving, and I agreed to stay at her place and puppysit. I'm on the way and my mom calls me: "Maggie was in an accident. She's at 22nd (St) and 4th (Ave) in the parking lot of a Quik Mart." So, I head to the intersection in question, and see my sister. She's crying and being consoled by a tall, lanky fella in a white shirt and jeans. After giving her a hug, while she's still somewhat hysterical, I take a look at the cars and ask her what has happened.
Apparently, the black BMW in front of her had stopped short, for a reason I've now forgotten, and she stopped her Mazda 3 with due distance to spare. However, three 20 yr old "stupid dumb****s", to quote the TPD police officer who responded to the 911 call, in a 1989 Honda POS (and yes, that IS a registered trademark of Honda) didn't notice the stopped vehicles in front of them and slammed into Maggie's Mazda at 40MPH. She was pushed into the beemer, and all three cars went to the parking lot of the Quik Mart to sort things out and wait for the cops. The driver of the beemer is angry as all hell, because he apparently just got his BMW repaired recently and it was out of commission for a month. To his credit, his ire is directed at the Honda guys, rather than my sister, and they both repeatedly told my hysterical sibling that "it's not your fault".
So anyway, I arrive and I start talking to the BMW guys, and they mention something about "the season" starting, and how they'll be all over the place when that happens. My interest piqued, I ask them what "season" they're talking about. Lo and behold, it turns out that they're baseball players -- both of them were outfielders for the Colorado Rockies' Single-A Asheville Tourists this past year (and both of whom are expecting to play for the High-A Modesto Nuts this season). The driver of the BMW was Dave Christensen, and the lanky passenger who was consoling Maggie was Tyler Massey. (Or so he introduced himself to me. The official documents say Joseph, his legal first name) Of course, I had to immediately txt Purple Row editor Andrew T. Fisher and his compadre in crime mkorpal to find out who these dudes were, (ATF, formerly known as Poseidon's Fist, and mkorpal are intown for Spring Training) and Andrew filled me in. (He happened to be spying on Ian Stewart at Fleming's Steakhouse at the time.) I mentioned to them that I was an author and editor for the Snakepit, but that I had several good friends at Purple Row. Neither of them are members, but they're both familiar with that SBN site.
Anyway, to wrap up the story, the guy driving the Honda had just bought his car today, and was uninsured, so that's gonna suck -- both for my sister and for him, as he got two tickets. Everyone was okay, outside of minor soreness; the Honda was totaled, Maggie's Mazda has damage at both ends, and Dave Christensen's BMW's trunk won't shut. When the attending police officer had finished his report, I wished Christensen and Massey a good season, told them I'd see them next year in Scottsdale, and we all went our separate ways.
Baseball stars: They're just like us.
Here is, from left to right, Maggie, Christensen, and Massey: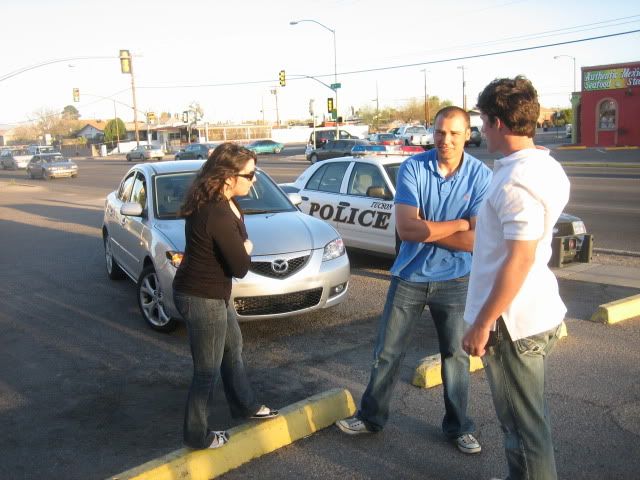 Here's TPD, layin' down the law on the Honda dumb****s:
And here's Christensen's beemer: